Let's Save Lives Together
Monetary donations are always welcome. Click on the "Donate" below – to donate now. We spend our budget on assisting with vetting, special training, treats, toys and beds for these pets that have no one. Automatic monthly deductions are always welcome. We are a 501 (c)(3), your donations are tax deductible.
If you prefer you can mail a donation payable to:
The Forgotten Pet Advocates
P.O. Box 3037
Pearland, TX 77588
Amazon Smile
You can also help donate by signing up for Amazon Smile. With a small portion of every purchase, a donation will be made to The Forgotten Pet Advocates.
Click the link below for more information and to register.
Kroger Neighbor to Neighbor Program
It's time to renew your Kroger card to keep The Forgotten Pet Advocates as your charity. We were able to receive over $500 last year from this program. With no cost to you – just link your card to our FPA code 90751. It's that easy!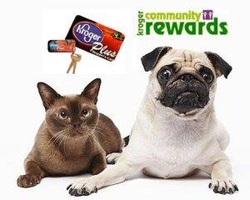 New Online Process:
Go to: www.KrogerCommunityRewards.com
Create an account if you do not have one
Confirm your new account
Hit the "Enroll Now" button for Texas
Put in our code – 90751
FPA is now your charity! Share with your fb friends, friends at work and family! Thank you for your support!
iGive.com Donate
Here's something you can do that will cost you nothing but a little time!
Enroll in iGive and select THE FORGOTTEN PET ADVOCATES as your charity of choice.
If you buy anything from any of the vendors on the iGive mall, a percentage of your purchase is donated to HOPE.
There are hundreds of merchants to choose from at the iGive mall.
The service is free and provides greatly needed funds to THE FORGOTTEN PET ADVOCATES.

Cup Fundraising
We are pleased to provide a minimum donation of 20% to this wonderful organization for every bag or pillow pack of gourmet coffee and other delicious products which you purchase. Click below for more information!